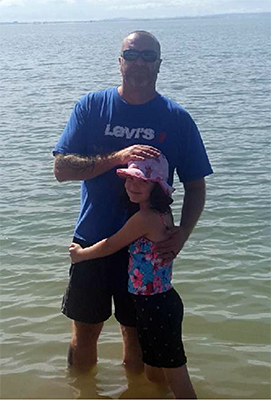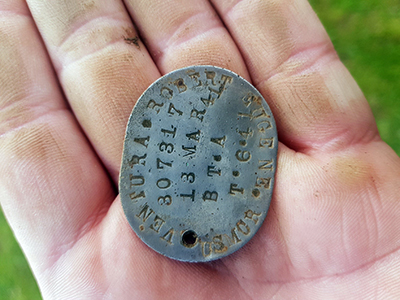 Click the thumbnail to enlarge the image.
Well where do I begin? A little bit about myself is always a good start.
I'm 46 years old, married with an 8-year-old girl. I was looking at metal detecting as a hobby for quite a while, plus it also gets my daughter out and away from the TV!
My mother's father was an English WWII vet who was one of the first into the concentration camps Auschwitz and Birkenau. The horrors he must have seen he would have taken to his grave. I never asked him about it and he never talked about it, but I have always had a connection to WWII history through him. I have his medals from Italy and South Africa and his service medal. These hold a special place in my heart as a way of keeping his memory alive and the sacrifices he made for his country.
Now when I find things like old coins it's always a thrill, but when you find objects which hold sentimental value to someone somewhere, you don't just look at it like an object anymore. You start to think, whose was this, where are they from, and do they want it back?
When I looked up the history of my surrounding areas where I live in Papakura, I came across quite a few WWII transition camps. Most of these places are now all built out, but the one in Pukekohe was turned into a public park. I had detected there a few times and found a few old coins and a WWII United States Marine Corps (USMC) lapel pin, but while detecting on the very edge of this old site I got a very strong signal which came up as scrap, but as I knew this was an old site I thought, what the heck, dig it anyway.
I called my wife, who said, "Wow what a great find, we should see if we could track down the owner or his family at least."
When it came out I thought, great a bit of tin! When I wiped it I started to see letters, then I saw USMC and got all excited. Yay I got a badge! But the more I cleaned it, I then realised it was a dog tag. The excitement was overwhelming. I called my wife, who said, "Wow what a great find, we should see if we could track down the owner or his family at least." My excitement soon ebbed away as I just stopped, looked at the name and started to form a picture in my head of what Robert Eugene Ventura looked like now. Was he still alive? Did he have kids? How old is he? What was he doing here? That's when I thought I have to get this back to its rightful place.
When I got home I posted my find on a Facebook site for fellow detectorists, which I'm a part of. I received some useful info on how to go about contacting the owner of the dog tag. First thing I did was Google Mr. Ventura's name, which told me he passed away earlier this year at 94. I felt a bit sad when I found this out, as I would never be able to reunite this dog tag with him, but I didn't give up. With help of a fellow detectorist Francis Van Mollier, who is also into researching history of objects found and himself has returned a couple of dog tags to their owners, came up with the phone number for Robert's widow Gayle Ventura who lives in Oregon.
I was a bit nervous at first ringing Robert's wife who has just lost her husband. Would she think I'm trying to scam her or something?! So when she answered the phone and I told her I'm ringing from New Zealand she was a bit wary, but when I told her I had found her husband's dog tag metal detecting, she knew I wasn't a prank caller and she was astounded that I had taken the time to track down Robert's family to get the dog tag back to its rightful place. She was very happy and astounded that I had found it.
Regards,
John Siret