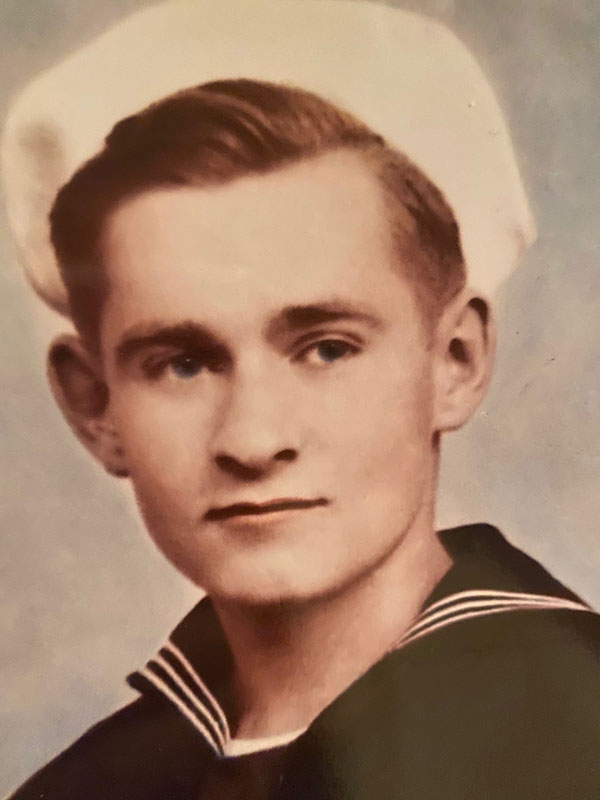 After graduating from St. Agatha's Elementary School in 1941, Walter attended Farragut High School. He liked math and participating in sports, especially baseball, football and basketball. He had a part-time job after school at a tool and die shop.
Like many young men during World War II, Walter wanted to serve his country, so he left school in June 1943 to enlist in the Navy. He received his basic training at Great Lakes Naval Base. After completing training, Walter served aboard the USS Lenoir (AKA-74), an attack cargo ship, then on the USS Bayfield (APA-33), an attack ship that earned 4 battle stars, including the battle of Iwo Jima. He also served aboard the USS Seminole, a cargo ship.
Walter's rank was Seaman first class, and he served as a Boatswain's mate. His duties included running LCM landing barges and sometimes acting as a gunner's mate.
He earned the American Area Campaign Medal, the Asiatic-Pacific Campaign Medal and the World War II Victory Medal.
After the war, on July 1, 1946, while serving on the USS Bayfield, Walter took part in Operation Crossroads which involved the atomic bomb testing at Bikini Atoll.
When his enlistment was up, he was honorably discharged in October 1947. Walter later married and had seven children, 12 grandchildren and 15 great grandchildren. Walter passed away in August of 2019 at the age of 93.